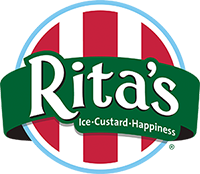 Welcome to Ritas Jobs!
Just because you work for a living doesn't mean it can't be fun! At Rita's, our number one job is creating happiness. Not a bad occupation, don't you think?
Apply today for this exciting opportunity!
Title: Shift Manager
Location: Rochester, NY 14618
Position Description
If you love Italian Ice and enjoy working in a fun, fast-paced environment then Rita's Italian Ice is the place for you!! Our stores are re-opening in March, 2018 and we are hiring shift managers. Please note the position is seasonal (March ti mid-October), but managers in good standing may return for the next season.

Ideal candidates will possess excellent customer service skills and previous supervisory experience. Must be available to work either opening shift (10:30 AM - 4:00 PM) starting in March or evening shift (5:00 PM to 10:00 PM). Candidate will have the ability to promote excellent guest services and a team atmosphere to a staff of 10 employees. The position requires constant standing, bending and some manual labor. Candidate must have the ability to lift and/or carry at least 35 lbs. of weight. Basic math skills are necessary. Previous restaurant or retail experience is required. Previous managerial experience is preferred. Responsibilities include, but are not limited to...

- Adhering to and enforcing all policy and procedures with a treat team staff regarding daily cleaning duties, proper uniforms, guest services and store
opening/closing procedures.
- Preparing schedules, sales reports and inventory orders on a weekly basis. Producing, maintaining and tracking all Italian Ice on a daily basis.
- Supervising treat team members in storefront responsibilities such as customer service, cleaning procedures and maintaining our core product...
Italian Ice.

Please include a resume or work history, contact information, two non-family member references (professional or academic), store preference from list of locations, a brief statement about your interest in this position, and an application.